Our range of services includes labelling, identification, data processing, engineering, integration and service. We rely on an intelligent combination of different technologies, which we always adapt individually to the specific requirements. As a solution provider, we drive the digitalisation of industrial production through and with our customers.
Total solutions instead of partial products
With us, you get the standardisation of markings and readout procedures, integration into customer systems as well as the connection to IT systems including a service package from a single source. The Senodis applications are open to technology and can be easily and quickly adapted to your individual needs - for an optimal solution in your processes.
Engineering
Linking component and production data through labelling opens up previously inaccessible potential in the areas of process optimisation and Industry 4.0. In the short and medium term, this new information leads to high savings in the areas of quality assurance, logistics and production.
Automation, integration and data processing
Individual customer solutions
Technology openness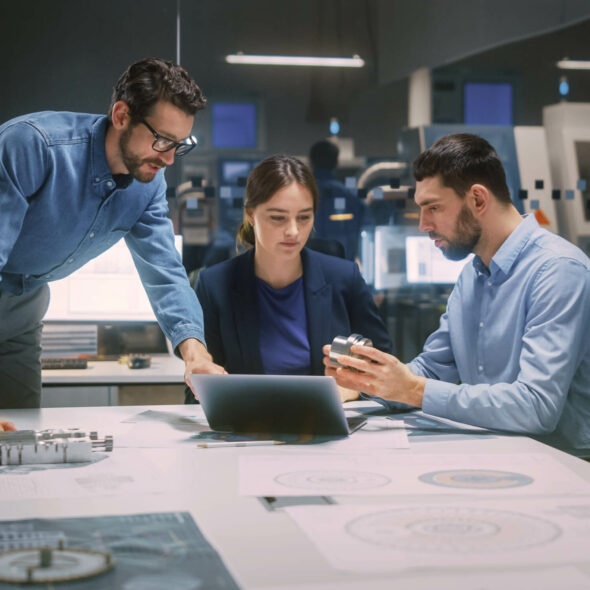 Ink
Not all inks are the same: depending on the material, surface condition and application, different technologies may be necessary. What they have in common is that they must have good adhesion during and after the production steps and produce a clean print image. In addition, they need a clear contrast and permanent stability to avoid printer downtimes as well as contamination.
We offer our customers a wide range of pigmented, organic and precursor inks for the most common printer technologies and with temperature stabilities of up to 1,600°C. The colour can be chosen flexibly and allows for a clean print image after the production steps. The colour can be chosen flexibly and allows for light and dark as well as UV contrasts and colour changes.
This selection is made possible by strong expertise in ink testing and cooperation with renowned partners in the field of ink development and production.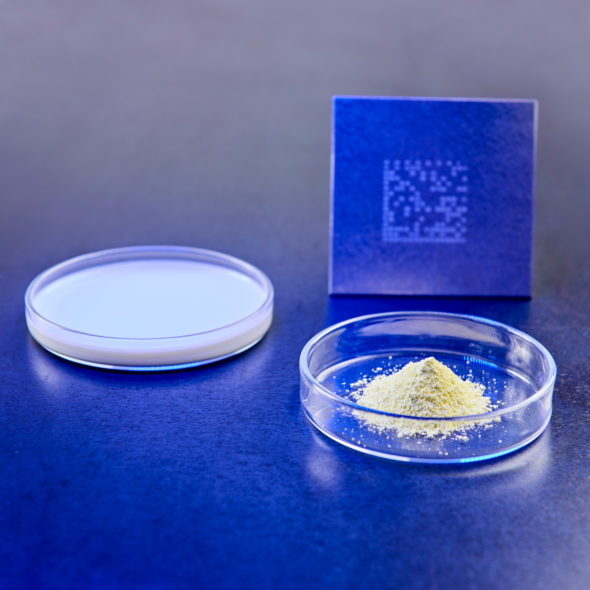 The core of the CeraCode® ink consists of inorganic particles. They serve as adhesion promoters and for contrast. The ink is characterised by a temperature resistance of over 1,050°C, a bright, whitish contrast and a high resistance to oiling.
It has been specially developed for press curing. It is usually applied using DoD printing technology, but it can also be used in TIJ printers.
Senodis ceramic inks are characterised by high temperature resistance up to over 1,600°C. As a rule, precursor mixtures are used as a basis for this.
Light, dark and UV contrasts are possible; in special cases, colour changes can also be realised. Common printing technologies for application are the CIJ and TIJ processes.
For recurring, regular patterns in 3D metrology, temperature-resistant inks with a particularly precise print image are used. Their bright contrast guarantees high accuracy even on oiled surfaces.
Depending on the technology used (printing, airbrush, stamping), different viscous inks can be produced individually for each customer problem.
Printer
We are characterised by the use of a variety of proven printing technologies and their intelligent networking with other identification options such as scanners. We rely on common, industrially proven applications, namely Drop-on-Demand (DoD), Continuous Inkjet (CIJ) and Thermal Inkjet (TIJ).
The size of the coding determines the appropriate printing technology. In the field of ceramics and glass, only very small component markings (< 10 mm) are usually possible. The use of CIJ and TIJ processes is common here. With metals, larger areas are often available (> 10 mm), so DoD is a possibility.
All printing technologies allow intelligent networking of individual production systems and automated and simple operation.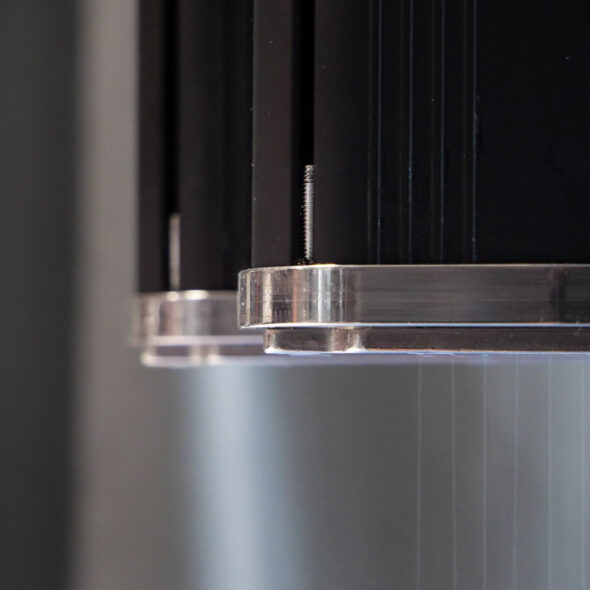 Zeichengröße:
2,4 – 64 mm
Max. Druckgeschwindigkeit:
240 m/min
Anzahl Düsen:
7, 16, 32
Kontrast Tinte:
weiß, schwarz, UV

(weitere auf Anfrage)

Übliche Materialien:
Stahl, Aluminium
Druckdistanz:
bis zu 20 mm
Ausführung:
stationär
Konnektivität:
Ethernet, USB
| | |
| --- | --- |
| Zeichengröße: | 1,8 – 12,7 mm |
| Max. Druckgeschwindigkeit: | 76 m/min bei 300 dpi |
| Anzahl Zeilen pro Druck: | bis zu 5 |
| Kontrast Tinte: | weiß, schwarz, UV |
| Übliche Materialien: | Glas, Stahl, Aluminium |
| Druckdistanz: | bis zu 8 mm |
| Ausführung: | stationär oder mobiles Handgerät |
| Konnektivität: | Ethernet inkl. DHCP, SNMP Protokoll, Webserver |
| | |
| --- | --- |
| Zeichengröße: | 4 – 12 mm (bei 16×16 Matrix) |
| Max. Druckgeschwindigkeit: | 500 m/min |
| Druckmodus: | 5 – 48 Dot Grafik |
| Kontrast Tinte: | frei konfigurierbar |
| Übliche Materialien: | Keramik, Metalle |
| Druckdistanz: | bis zu 20 mm |
| Ausführung: | stationär |
| Konnektivität: | Ethernet, USB |
IT-Ressources
A physical marking enables the identification of of individual components. Precise localisation, tracking and characterisation can only be achieved through the unambiguous linking with components and machine reading. The problem: In demanding process environments, the markings change during the during processing or the application of a standard code is not possible. With our innovative identification technologies, we offer a a solution to this problem. For example, processes with high component processes with high component deformation can be digitalised.
In addition to complete solutions for parts tracking, we also customer requirements. These include automation, image-supported automatic maintenance procedures, local data acquisition, communication communication via industrial protocols as well as customised interfaces and the cross-company provision of data.
As a complete solutions provider, we have developed strong expertise in all of the in all of the related technologies described below, which we also offer also offer as separate services.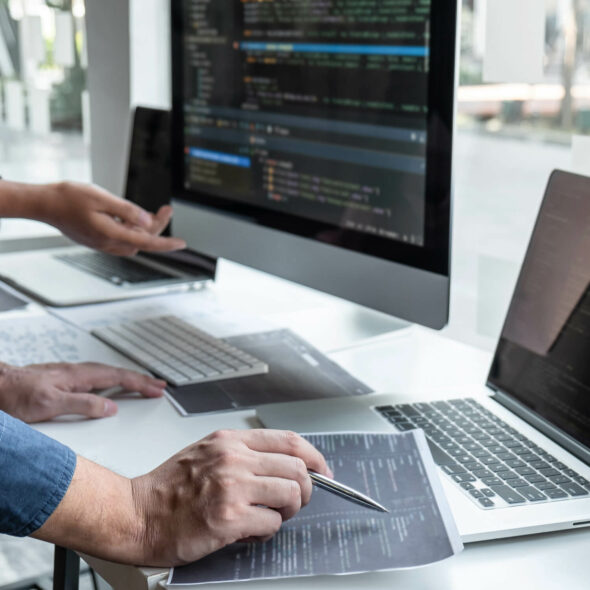 To ensure optimal readability of our codes, we continuously monitor the quality of our printed patterns using classical and machine learning approaches to image processing. Typical challenges are the localization and segmentation of such images, where the pattern (e.g. DMC) needs to be localized in the image and the modules (blobs) need to be accurately segmented in order to extract geometrical features.
Printing with custom inks has its quirks, as the valves in the print heads may clog, leading to a failure of the whole marking system. Preventing such events is of uttermost importance which means those should be known in advance. By means of continuous monitoring of the printing quality, special models can be trained that are able to predict possible outages (RUL).
Developing and testing new technologies requires data that often is sparse or even not available. For such cases synthetic data generation and data augmentation comes in handy. This way, new algorithms can be developed to a mature and robust state.
The most difficult problems in the communication between companies are the lack of trust and the lack of control. The vast amount of data renders manual access control impossible. As early adopters of sovereign data spaces, we use decentralized data space connectors based on the IDS framework for sovereign data exchange between enterprise silos.
Fast and simple solutions are good for testing, but rarely robust and usually not usable for third parties. We therefore emphasize designing and testing our applications accordingly and transferring them into consistent runtime environments with well-documented interfaces.
Services
Reliable marking and identification systems need service and maintenance. With sophisticated service concepts ranging from regular maintenance cycles and immediate on-site support to intelligent and automated remote maintenance solutions, we provide our customers with customised offers.
Individual service concept according to customer requirements
Digital and on-site service
Full-service packages for marking and identification solutions